Events
【This event has ended.】 "FIBER Webinar Universe in Nucleic Acid Chemistry 11" will be held online (Nov. 1st, 2022)
2022/09/15
We invite leading researchers in the field of nucleic acid chemistry and hold "FIBER FUTURE COLLEGE" as public lectures.
For this "FIBER Webinar Universe in Nucleic Acids Chemistry 11" lecture, we invited Prof. Katherine Seley-Radtke from the University of Maryland,Baltimore County, USA, who specializes in drug discovery research using artificial nucleic acid compounds, and Prof. Bengang Xing from Nanyang Technological University of Singapore, who specializes in developing technologies for medical engineering diagnostics using nucleic acids.
We look forward to your participation from universities, research institutes, and companies.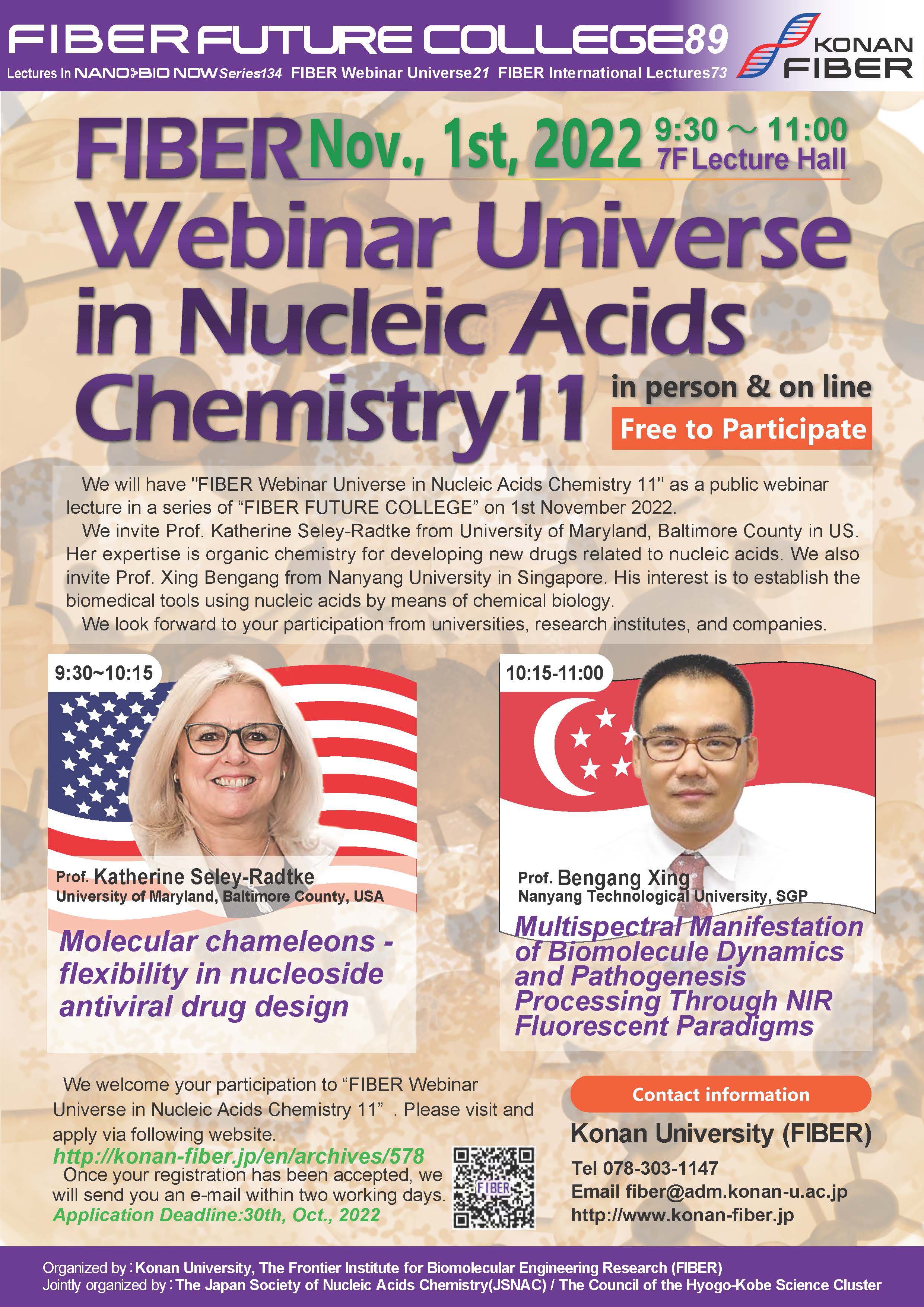 ( For more information on the lecture, please check here)
● Date and time:Nov. 1st, 2022  9:30 am-11:00 am(JST)
● Online Lecture by Zoom
● Lecture language: English
【Lecture 1】 9:30am‐10:15am(JST)
・Speaker : Prof. Katherine Seley-Radtke
・Affiliation : University of Maryland, Baltimore County, USA
・Lecture title: "Molecular chameleons – flexibility in nucleoside antiviral drug design"
【Lecture 2】 10:15am‐11:00am(JST)
・Speaker : Prof. Bengang Xing
・ Affiliation : Nanyang Technological University, Singapore
・ Lecture title : "Multispectral Manifestation of Biomolecule Dynamics and Pathogenesis Processing Through NIR Fluorescent Paradigms"
● Participation free for online lectures
If you would like to participate, please apply by Oct. 30th, 2022 (Sun.) from the WEB application form below.
*Please make sure to enter your e-mail address correctly.
*After confirming your application, we will send you an e-mail with details such as the ID to attend the lecture.
*If you do not receive a reply email after submitting your application, please contact us at the address below.
【Contact Information】
   FIBER, Konan University
   Phone:+81-78-303-1147
   E-Mail: fiber@adm.konan-u.ac.jp 
       http://www.konan-fiber.jp/en/