Events
【This event has ended.】 "FIBER Webinar Universe in Nucleic Acid Chemistry 12" will be held online (Nov. 8th, 2022)
2022/09/15
We invite leading researchers in the field of nucleic acid chemistry and organize "FIBER FUTURE COLLEGE"as open lectures.
In this time, FIBER Future College 90 is an open seminar related to Research Center for Nucleic Acid Chemistry to Develop Methods to Regulate Gene Expression Using Non-Double Helical Nucleic Acids" as an on-going project of "Core-to-Core Project" of the Japan Society for the Promotion of Science (JSPS). Two young researchers, one from Japan and the other from the U.K., who are involved in this project, will present their latest research results.
We look forward to your participation from universities, research institutes, and companies. This lecture will also be organized as part of the FIBER Webinar Universe in Nucleic Acid Chemistry, which will be simultaneously streamed online.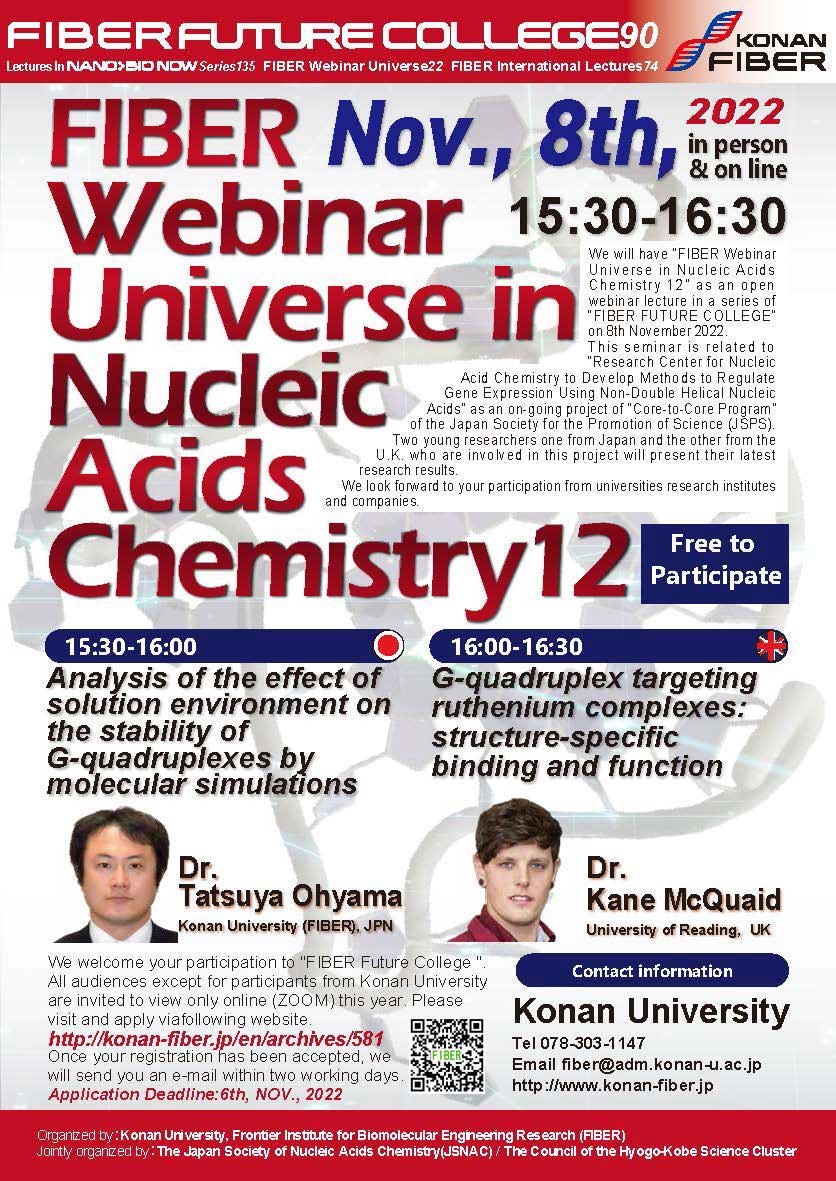 ( For more information on the lecture, please check here)
● Date and time: Nov. 8th, 2022  3:30 pm-4:30 pm(JST)
● Online Lecture by Zoom
● Lecture language: English
【Lecture 1】 3:30pm‐4:00pm(JST)
・Speaker : Dr. Tastuya Ohyama
・Affiliation : Postdoctoral Research Associate, Konan University( FIBER), JPN
・Lecture title:"Analysis of the effect of solution environment on the stability of G-quadruplexes by molecular simulations"
【Lecture 2】 4:00pm‐4:30pm(JST)
・Speaker : Dr. Kane McQuaid
・Affiliation : Postdoctoral Research Associate, University of Reading, UK.
・Lecture title:"G-quadruplex targeting ruthenium complexes:structure-specific binding and function"
● Participation free for online lectures
If you would like to participate, please apply by Sunday, Nov. 6th, 2022 from the WEB application form below.
* Please be careful not to make a mistake when entering your e-mail address.
* Details such as the lecture participation ID will be notified by e-mail within 2 business days after the application is confirmed.
* If you do not receive email above, please contact us.
【Contact Information】
FIBER, Konan University
Phone:+81-78-303-1147
E-Mail: fiber@adm.konan-u.ac.jp
http://www.konan-fiber.jp/en/