Events
【This event has ended.】 "FIBER Webinar Universe in Nucleic Acid Chemistry 14" will be held online (Dec. 1st, 2022)
2022/10/28
We invite leading researchers in the field of nucleic acid chemistry and hold "FIBER FUTURE COLLEGE" as public lectures.
We will have "FIBER Webinar Universe in Nucleic Acids Chemistry 14" as an open webinar lecture in a series of "FIBER FUTURE COLLEGE" on 1st December 2022.
We invite Dr. Yusuke Takezawa from University of Tokyo. His expertise is coordination chemistry in nucleic acids. We also invite Dr. Yuichiro Aiba from Nagoya University. His interest is to regulate nucleic acids functions by peptide nucleic acids.
We look forward to your participation from universities research institutes and companies.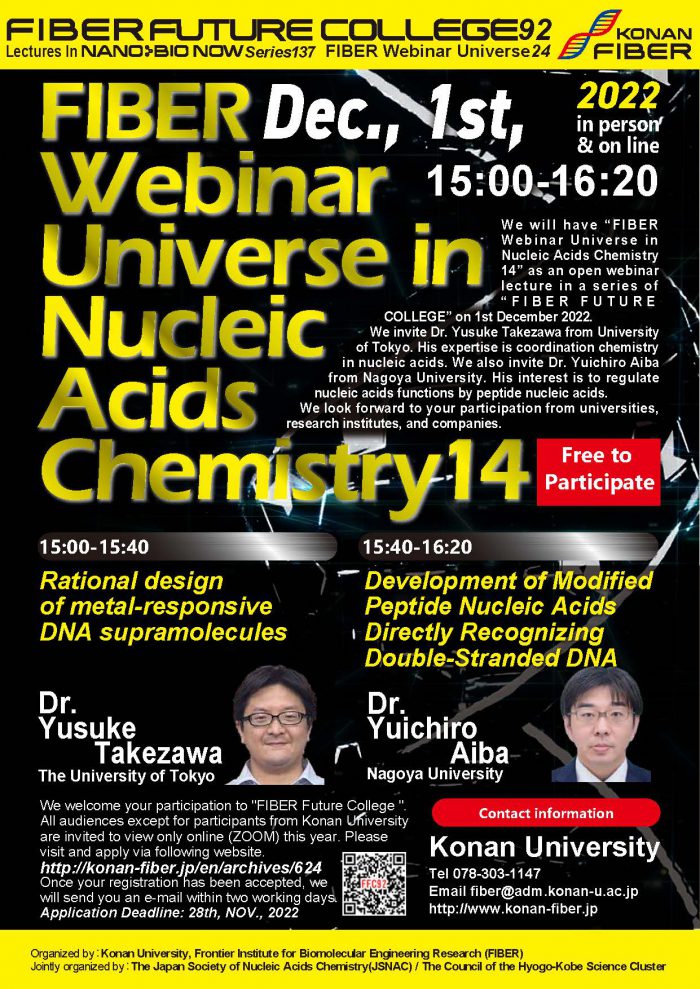 ( For more information on the lecture, please check here)
● Date and time: Dec. 1st, 2022  3:00 pm-4:20 pm(JST)
● Online Lecture by Zoom
● Lecture language: English
【Lecture 1】 3:00pm‐3:40pm(JST)
・Speaker : Dr. Yusuke Takezawa
・Affiliation : The University of Tokyo, Japan
・Lecture title: "Rational design of metal-responsive DNA supramolecules"
【Lecture 2】 3:40pm‐4:20pm(JST)
・Speaker : Dr. Yuichiro Aiba
・ Affiliation : Nagoya University , Japan
・ Lecture title : "Development of Modified Peptide Nucleic Acids Directly Recognizing Double-Stranded DNA"
● Participation free for online lectures
If you would like to participate, please apply by Nov. 30th, 2022 from the WEB application form below.
* Please be careful not to make a mistake when entering your e-mail address.
* Details such as the lecture participation ID will be notified by e-mail within 2 business days after the application is confirmed.
* If you do not receive email above, please contact us.
【Contact Information】
FIBER, Konan University
Phone:+81-78-303-1147
E-Mail: fiber@adm.konan-u.ac.jp
http://www.konan-fiber.jp/en/